Nomination BackgroundEdit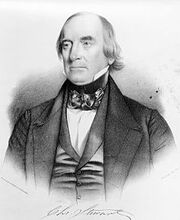 As 1824 approached, both the
Crown Party
and
Whig Party
scrambled together to nominate a candidate. With
Henry Clay
stepping down after two successful terms, the Crown Party had nominated
Lord Secretary of the Navy
and Second Seven Years' War veteran
Charles Stewart
. Whigs all over the nation were shouting for victory, and they called out a specific name to lead them to this victory: 
Hunter DeRensis
. DeRensis had been the Whig nominee in 1816, and had performed much better than expected but still met with defeat, but in defeat he had also become
Viceroy
under Henry Clay, a position he would now be leaving with Clay's departure. DeRensis, the Duke of Winterfell, coveted the nomination, and most Whigs bowed out of his way; except for one.
CandidatesEdit
For the 1824 nomination, only two candidates were actively seeking the Whig nomination. They were:
DeRensis was risen through the military ranks in the Barbary Subjagation and the Second Seven Years' War to become a military hero by wars end in 1809. After joining the Whig Party and serving as the Governor of Pennsylvania, he had won the Whig nomination in 1816. He had won over 35% of the country's support, but in defeat he was rewarded with the position of Viceroy. Acting as the country's chief diplomat, he worked through Clay's administration gaining politcal favor, and steering the country into avoiding war. Now with Clay leaving office, he was once again angling to repeat his 1816 nomination success, and hopefully become the next Prime Minister.
Once New York's favorite son, Dewitt Clinton had fallen on hard times. Becoming the esteemed Governor of New York in 1810, he had attempted to gain the Whig nomination in both 1812 and 1816, both leading to failure; in 1812, he had actually run as an independent, something the Whig leaders had failed to forget. In 1820, facing no opposition, he finally achieved the nomination; to suffer a terrible and humiliating defeat at the hands of Henry Clay. After that defeat, Clinton had returned home a depressed and defeated man. And in 1822, he suffered an even worse defeat. He was not reappointed Governor of New York, being defeated by up and coming party boss Martin Van Buren; in defeat, it was Clinton who gave Van Buren his nickname of "Fox." After returning to private life, Clinton had kept to himself until 1824. That year, he once again placed his name into consideration for the Whig nomination. Many party leaders said they would laugh if it wasn't so sad. So in 1824 Clinton made a last chance effort to become Prime Minister, in the vain hope that New York's aging favorite son might finally achieve national fame and respect.
Nominating ConventionEdit
This year the nominating convention would take place in the nation's capital of Philadelphia. When the convention started, it was immediately a DeRensis landslide. Even New York delegates rallied around the Duke, and Clinton was left with a handful of delegates, none extremely dedicated. The Duke was nominated by acclamation. For Viceroy, wealthy merchant and 1820 Viceory nominee Harrison Gray Otis was chosen. After the convention, Dewitt Clinton returned to his home in New York; he would committ suicide immediately after returning.
The Duke campaigned hard, but not as hard as 1816. The Whigs had built up a national force strong enough that a stump campaign was no longer necessary. Stewart continued to perform a front porch campaign like all previous Crown nominees, although he also continued to work in the Navy Department. The Crowns feared defeat, and prepared for the unthinkable. Amazingly, the Duke also carried the support of Henry Clay (as agreed in a previous political deal) who brought along a sizable amount of Crowns with him. When it came time for Andrew I to choose, faced with so much popular support, he chose Hunter DeRensis, the Duke of Winterfell, as the first Whig and third Prime Minister of the Union of Royal American States.