Marcus Dickens

Portrait of Marcus A. Dickens in full marine uniform, circa 1810

Full Name

Marcus Augustus Dickens

Born

January 22, 1770, Massachusetts Bay, British Colonies

Died

December 25, 1842, Massachusetts Bay, URAS

Lord Secretary of the Navy

1824-1832

Years of Service

1790-1810

Rank

Party

Jeffersonian Party, Whig Party

Spouse

Vera Dickens

Children

4

Parents

Giles Julius Dickens, Amicia Mason
Sir Marcus Augustus Dickens, 3rd Count of Suffolk
(January 22, 1770 - December 25, 1842) was a highly-decorated American military officer, knight, and Count of Suffolk. While known as a well-liked politician, he was much more famous for his Marine Corps career, (including extreme heroism at the Battle of Trafalgar that saved dozens of lives) and was also the designer of the URASMC Flag.
Upon returning from military service in the Second Seven Years' War, he joined the Whig Party and became one of the political bigwigs. In 1814, he met Hunter DeRensis, the Duke of Winterfell, for the first time, and the two became fast friends. When DeRensis became the third Prime Minister of the URAS in 1824, he appointed Dickens as the Lord Secretary of the Navy. Dickens oversaw the largest expansion of the navy up to that point, and help direct the oversea supply lines during the Peninsular War. Serving for both of the Duke's terms, Dickens left office and Whig politics officially in 1832.
In his retirement, Count Dickens roamed the world, visiting American island colonies in South Asia, British India, the French Chinese and Filipino holdings, and then Persia and Arabia. He published his memoirs, An American Epic: The Story of Sir Marcus A. Dickens, in 1840, and then Sir Dickens' Guide to the Orient and Other Exotic Locales in 1842.
Sir Marcus A. Dickens State University in Boston, Massachusetts Bay, was named after him. His nickname was "the Dandy."
Marcus' father Giles Julius Dickens was of pure English ancestry. As a young man, Marcus traced his father's lineage all the way back to Sir Baldwin Diccens, a knight during the Norman Invasion of England in 1066. He began using Baldwin's coat-of-arms, a black iron cross with a lion head at the center on a white field, upon being knighted himself by King Andrew I in 1810. Marcus created the family motto, Omnia Boston, meaning in Latin, "All for Boston." Upon his death, the name, coat-of-arms, and motto all passed to his second child, and eldest son, Marcus A. Dickens Jr. They also came into use by Boston's Sir Marcus A. Dickens State University with its opening in 1842.
Early Life
Edit
Military Career
Edit
Battle of Trafalgar
Edit
Designing the URASMC Flag
Edit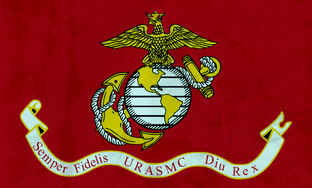 Military Retirement
Edit
Knighthood
Edit
Order of the Blue Sash
Edit
Count of Suffolk
Edit
Title of Nobility
Edit
Count Dickens was addressed as "His Excellency, the Count" when in formal settings. In more private circumstances, just "Sir" or "Sire" was acceptable.
Sir Marcus August Dickens, 3rd Count of Suffolk, was found dead in his hunting lodge about 50 miles outside Boston on December 25, 1842; he was 72 years old. His wife Vera died fives years later at age 77. His sons Marcus A. Dickens Jr., Charles Anthony Dickens, and Andrew George Dickens were all captains at the time of his death. He was given a massive state funeral, which was personally attended by King Andrew I. One hundred cannons were fired at the same time out to the waters of Boston Harbor, which was closed for the entire day.
Personal Life
Edit
Military Awards
Edit
The Legion of Honor (two times)
The Copper Eagle
The Star of Franklin
The Legion of Sacrifice (five times)
The Silver Star of Boston
The North Africa Campaign Ribbon
The Illinoia Campaig Ribbon
The Trafalgar Medallion
The Iron Cross of Prussia (honorary)
The Blue Sash