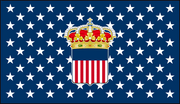 The Prime Minister of the Union of Royal American States was the head of government (excluding the monarch), and the leader of the executive branch of government in the Parliamentary system that is the URAS.
The Prime Minister was not elected, and the monarch had the duty to select whoever he saw fit to hold the position. The monarch could choose any person he wanted that had announced they were running, giving the possibly to dozens (if not hundreds) of people being chosen, from a variety of parties, some of them from the same party. But in most cases, the monarch listed to popular opinion to prevent unrest, and thus most candidates ran political campaigns to demonstrate their popularity in the country; or, more commonly, allowed their political party backers to do the campaigning for them. Over the years, many campaigns were corrupt, and blackmailed or bribed populations into holding paradies and rallies to make the monarch choose their candidate. Starting in 1836, a basic polling system started to be used to gage where the public stood, although it was common for the polls to be off by several points.
Prime Ministers could serve only two terms of four years each, although they could run again after the next election. The Prime Minister could be dismissed at any time, since they technically served at the pleasure of the monarch; but most monarchs choose to keep their hands off of administration business during their terms in office. When the monarchy came into existence on January 1, 1805, King Andrew I appointed General William Henry Harrison to be interim Prime Minister; he had all acting powers of the Prime Minister, although was not considered official, since the King was still forming his government. This action took place in the middle of the Second Seven Years War, creating an unbalanced base to form a new government, and pushing plans for creating permanent structures back several years. In 1808, William Henry Harrison was officially inducted as the First Prime Minister of the Union of Royal American States, meaning his first term of four years started that year.